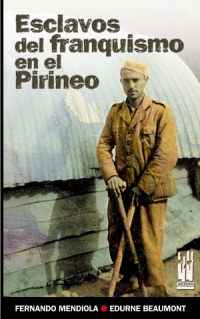 Title: SLAVES OF FRANCO IN THE PYRENEES
Authors: Fernando Mendiola and Edurne Beaumont
Published by: Txalaparta
Second editon: 2007
ISBN: 84-8136-457-7
When the Civil war ended, more than 2,000 anti-Francoist prisoners were brought to the valleys of Salazar and Roncal in the Navarran Pyrenees, in order to open up a mountain road. This road is the axis of this book, and presented through that is the disturbing story of the organisation and social impact of these forced labour battalions.
Through these pages and by means of direct testimonies, we are given a taste of the reality of one of these battalions which sought to physically and psychologically subdue those defeated in the war. We hear about the prisoner's strategies for surviving in such extreme conditions and we are shown the consequences that this forced labour had as much in the populations of some small mountain villages as in the families of these slaves of Franco.
An extensive work of research, accompanied by detailed documents and lists which aim to break the wall of silence imposed during decades on this, one of the most unknown and cruellest aspects of the francoist repression: slave labour.
Book contents licensed (as from 2nd editon)under Creative Commons BY-NC-ND
(Reconocimiento-Uso No Comercial-Sin Obras Derivadas)